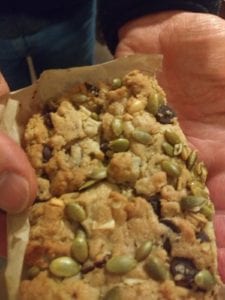 If you've ever had lactation cookies, you already know they are delicious. They're also a great way to make a treat for new parents, whether or not they're chestfeeding. They're filling, satisfy cravings and can add some really healthy ingredients to boost the immune system and milk production.
Amy brought lactation bars to a recent postpartum class, and I can safely say, we were all hooked. I immediately asked for her recipe to make for some friends I'd see later that night. At home I started mixing excitedly, knowing fully that I'd be missing a couple of ingredients considering I'd just moved into a new apartment. I've been called an 'experimental baker' in the past. And no, that's not really a thing. 
So now, my new favorite part about lactation cookies is how flexible and easy the recipe is! And I think we can all use a little of that. Not only can you swap out some of the ingredients if you need to, but you can add all kinds of ingredients that can be especially nourishing to a chestfeeding parent's body. (To be clear, nothing about them will make someone lactate who wouldn't otherwise.) How you choose to tweak them means they can fall anywhere on the spectrum of super-healthy-protein-packed-power-bar to double-chocolate-chunk-cookie-bar. With one big batch, you can even make different variations easily by splitting the dough up into smaller batches and adding different things to each.
First, I'll list the original recipe as it was given to me by Amy (it's an amazing recipe as is!). 
Then, I'll list some of the substitutions and additions I've played around with since, as well as a list of herbs and ingredients that are specifically helpful to chestfeeding parents and found in most variations of lactation cookies.
Amy's Original Recipe for Lactation Cookie Bar
In a small bowl, add 2 tablespoons ground flaxseeds and 4 tablespoons of water and set aside.

In a mixer, cream 1 cup unsalted butter, softened but not melted.

To the butter, add 1 cup sugar & ⅓ cup light brown sugar and cream until fluffy.

Add the soaked flax seeds, 2 eggs, ⅓ cup black-strap molasses and 1 teaspoon vanilla.

Mix until well blended, scraping the sides of the bowl with a spatula.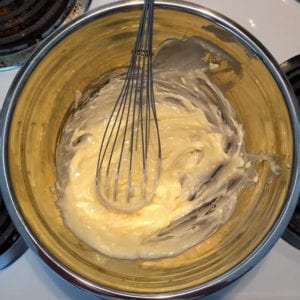 Whisk together the following dry ingredients in a bowl, then add into mixer in parts, on low speed:
2 ¼ cups whole wheat/or gluten free flour

¼ cup almond flour

¼ cup hemp hearts hulled

4 tablespoons Brewer's yeast

1 teaspoon Salt

1 teaspoon Baking soda

1 teaspoon Cinnamon
Once everything is incorporated, add 2 cups of old-fashioned oats and 1 cup of semi-sweet chocolate chips.
To bake, preheat the oven to 350 degrees Fahrenheit.
Line a baking dish with parchment paper, drop the dough in and spread it somewhat evenly, even if it's lumpy.
Bake for 30 minutes or until bottoms are deep golden brown and the middle of the pan appears to be thoroughly baked. Rotate the pan halfway through. (When using GF flour, bake 10-15 mins longer).
  Remove the dish from the oven and allow the bars to cool for an hour before slicing them into bars. Fully cooked bars can be frozen for up to 3 months in an airtight packaging,
Now, here's my first incarnation of this recipe, when I was missing some ingredients, and used a whisk instead of a mixer. 
Also….
I didn't have molasses but I did have dark brown sugar, so instead of the 1 cup sugar & ⅓ cup light brown sugar and molasses, I used 1 ⅔ cup dark brown sugar and no molasses.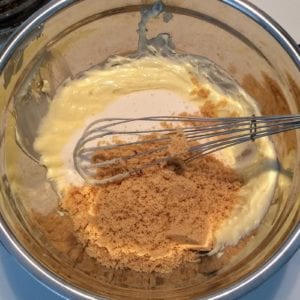 I only had gluten free flour so I used it for the entire flour amount. I've used all kinds of flour combinations since.
I added a handful of dried coconut flakes, both the shredded and big flake kinds which adds great texture and taste and helps with any issues I created for myself with all the substitutions.
I didn't have all the full amount of oats needed, so I added in a bit of granola instead which gave it a great crunch.
I used dark chocolate chips, and as I do with every recipe that calls for them, I doubled the amount.
As you can tell, I've personally strayed towards the cookie side of the spectrum more than the power-bar side, but that's just me…
I didn't have the right sized pan, but I did have three small pyrex dishes, which gave me the opportunity to split them up and dress each of them up differently. I gave one batch to my uncle, so I added toasted and lightly salted pumpkin seeds on top. 
I kept one to which I added dried cranberries for a little tartness and cut it up into little blocks as on-the-go snacks for my week. The last one cut up in squares and brought to a friend's potluck dinner as dessert and every last one disappeared. 
While the bar format is so easy and time-efficient, you can make little dough balls and store in the freezer for when you need just a couple of fresh-baked cookies.
Here's a list of common ingredients in lactation cookies that are said to help with lactation and postpartum. As always, talk to your caregiver for medical advice and your local lactation consultant can be a huge help. Check out Sage's very own lactation consultant Jessica Finegan-Brun.
Oats have a high concentration of saponins which may help to increase prolactin levels and therefore milk production. Oats are full of protein, vitamins and minerals and a great source of iron.
Ground flax seeds are full of omega-3 and omega-6 fatty acids which are great for us all, but especially for a baby's developing immune system. Flax seeds are rich in vitamins E and B as well as calcium, iron and potassium and can help keep your digestive system regular and running smoothly. 
Fenugreek seeds are full of phytoestrogens that can help balance and regulate estrogen and prolactin levels. Fenugreek may also help with triggering the body's letdown reflex. 
Brewer's yeast is one of the most common ingredients and while it has not been proven to increase milk supply or production, it's a great source of B vitamins which are so important for so much of what our bodies do. 
Healthy fats like coconut oil, nuts or nut butters help increase milk quality, which in turn helps the baby's developing brain and nervous system. 
  Here's to healthy and delicious postpartum support–have a blessed postpartum journey!
If you are looking for postpartum meals or support, please reach out to Leticia!!