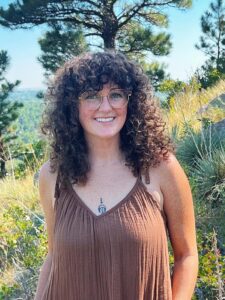 Meet Pooka, a birth doula and placenta encapsulator serving Boulder County and beyond.
Certified through Rocky Mountain Doula, she has experience in supporting families through
pregnancy, birth, and postpartum, her approach to birth work is one that is grounded in empathy,
compassion, and respect. She knows that every family's journey is unique and brings that same
level of care and support to every family she works with.
Pooka's passion for birth work was sparked in 2018, when she had the honor of supporting her
sister through the birth of her nephew. Witnessing the strength and love that her sister brought
to the birthing experience was a life-changing moment, and one that set her on the path to
becoming a doula. After completing her certification through Rocky Mountain Doula, Pooka
knew that she had found her calling in life.
As a doula, she believes in empowering her clients to make informed decisions about their care,
while also offering unwavering support and encouragement. She sees her role as that of an
advocate, cheerleader, and resource, and is committed to helping families have the birth
experience that is right for them.
Offering a range of services designed to support families at every stage of the birthing process.
Whether you're looking for emotional support, physical comfort measures, or informational
resources, Pooka is here to help. Her goal is to create a safe and supportive environment that
allows families to feel empowered and in control of their birth experience.
When she's not supporting families through pregnancy and birth, Pooka can be found in her
garden, listening to music, or exploring the beauty of nature with her partner and fur babies. Her
love for the outdoors is reflected in her work as a doula, where she strives to create a peaceful
and serene atmosphere that allows families to feel connected and supported.
Commitment to making her services accessible to everyone. She offers a sliding scale option for
those who may not have the financial means to access doula support otherwise. Her belief is
that every family deserves access to the support they need, regardless of their financial
circumstances.
In addition to her doula services, Pooka also offers placenta encapsulation.  If you're interested in learning more about Pooka's doula or placenta encapsulation, or want to chat about your hopes and desires for your birth experience, she would love to hear
from you.
peaceonbirthdoula@gmail.com
https://www.peaceonbirthdoula.com/
270-776-5778