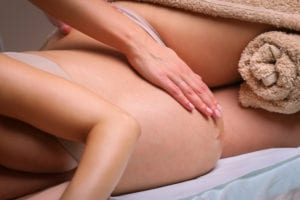 The Benefits Of Prenatal and Postpartum Massage
Massage can relieve the aches and pains of pregnancy and assist with a quick recovery postpartum. Consider the many benefits:
Relaxation and Stress Reduction
Massage relaxes muscles, increases circulation and lowers stress hormones.  All your body systems will appreciate treatment during these twelve months of continual change.
Anxiety and depression also respond very well to skilled massage therapy. About two-thirds of new moms experience temporary postpartum blues related to hormonal changes, new responsibilities and adjustment frustrations. Emotional support and the other benefits of massage can help during this transition.
Pain Relief
Body aches in pregnancy are common, but they don't have to be your "normal".  Regular massage can make a significant difference to your comfort in pregnancy and help with recovery from birth.  During the first months postpartum, breastfeeding and childcare can intensify arm, shoulder and back pain.  Massage provides welcomed relief and nurturing for new mamas.
Hormone Regulation
By improving circulation, massage promotes postpartum hormone balance.  Estrogen and progesterone levels are very high during pregnancy and decrease after delivery.  Prolactin and oxytocin hormone levels rise to facilitate breastfeeding.  It's a lot for a body to handle!  And experienced massage therapist can help.
Decreased Swelling
During pregnancy, blood volume increases by 50% and can lead to swelling in the hands and feet.  After birth, your fluids need to find their non-pregnant balance and swelling may continue for a while.  Massage increases circulation and lymphatic drainage to facilitate the elimination of excess fluids and waste products. Continue your high fluid intake for healing and lactation, even though you may still have swelling.
Better Sleep
Most third-trimester and newly postpartum moms feel exhausted.  Belly size, and mobility issues in late pregnancy, sleep deprivation during labor and around-the-clock baby care all take their toll. Massage will ease the fatigue, promote relaxation and assist with sleep.
Studies have shown an increase in delta brain waves (those that accompany deep sleep) with massage therapy.
Getting enough sleep is key to postpartum recovery. Everything improves when you feel rested! Arrange some help and get regular massages for better rest and sleep.
Improved Breastfeeding
Breastfeeding is a beautiful gift to your newborn, and it can be a challenge for some moms. Massage therapy relaxes the body, increases circulation and increases milk production. Studies show that massage actually increases prolactin levels.
Relaxing the chest muscles opens the shoulders and improves lactation. New research indicates that breast massage helps relieve breast pain, decreases breast milk sodium and improves newborn suckling.
For more information about Sage Birth & Wellness Collective Massage Therapy offerings, contact Jennie or Brittany, or call  (720) 204-8489