Learn the ABC's of parenting:  Attachment, Breastfeeding, Crying and more!  This class is designed to teach new parents how to manage life with a newborn.  Sleep, swaddling, cord care, bathing, reading, basic first aid, favorite baby items, toys/playing and other topics–all taught in an informal setting.
Sharing with each other, we can discuss our fears, excitement and begin to understand the ins and outs of parenting a newborn.
Bring your baby-wearing devices (moby's, boba's, k'tans, ergo's, lillebaby's and more) we'll practice trying them on, knotting and twisting and eventually become proficient in all the styles of wearing your baby!  Come ready to laugh and meet your tribe!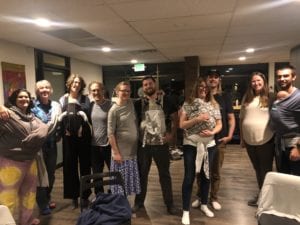 Cost includes snacks and booklet and is $125/couple
Classes happen quarterly at the Birth Center of Boulder
To register, call Amy at 720-323-3609 or email amy@sagebirthandwellness.com