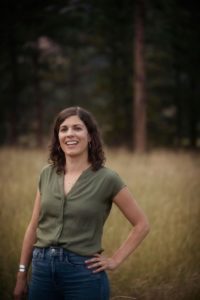 Liz Philbrick, a certified clinical herbalist and nutritionist, lives in Longmont, Colorado. She has always been moved by the natural world around her. As a child, Liz found inspiration in the woods of northern Connecticut, but it was during the 5 years she spent working on a lavender farm in Cape Cod, Massachusetts that she discovered her calling was centered on herbs and community. Liz graduated with a BA from Colorado College in 2005 and got her start in herbalism in Bozeman Montana apprenticing with Kris Hill of Hill Botanical in 2007.
In 2009 Liz moved to Boulder, Colorado to continue her studies at the North American Institute of Medical Herbalism, graduating from both the clinical and nutrition programs. Liz worked as an herbalist and production manager at Rebecca's Herbal Apothecary and Supply in Boulder, Colorado for over 6 years. In addition to her position at Rebecca's, Liz taught herbal classes in Boulder and at the Colorado School of Clinical Herbalism. Since having her two children in 2016 and 2018, Liz has her own herbal consulting practice, Wild Rose Women's Health, and continues to teach herbal classes in her community. 
Liz enjoys working with people who have the desire to take control of their own health. She believes that the combination of herbs, diet, and lifestyle has a profound ability to create a positive change in one's wellbeing. Through her own experiences, Liz has become passionate about women's reproductive health. She is inspired to help women strengthen their overall vitality by working with them to reclaim their health and feel good in their bodies.
Liz's specific areas of interest in reproductive health include menstrual cycle health, fertility awareness method, preconception, pregnancy and postpartum.
For more information or to schedule a consult, www.wildrosehealth.com