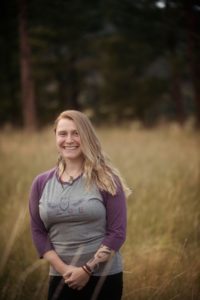 Ali is a certified Birth Doula and Postpartum Doula residing in the mountains of Gilpin County, Colorado. In her free time, Ali loves to dance, see live music, hike, soak in hot springs, spend time with her husband and fur babies, and take trips to the desert. With a love of holistic lifestyles and mindset, she honors the mind-body-spirit connection in her work and personal life. While having a passion for holistic health, Ali respects western medicine and the plethora of tools available! Ali is a Reiki practitioner and Reflexologist and loves to give these amazing therapies to her clients during prenatals, labor, and in the postpartum period. Ali is certified through BirthArts International, and continues to educate herself with different trainings, books, and podcasts. Birth and Social Justice are topics of interest, and currently discovering more ways that she can impact/educate the greater community. Along with that, sustainability and creating a better planet for future generations is very important to her, and she currently is collaborating with Sunbeam Energy (a local solar company)- any of her clients who decide to go solar will get a refund of $1000.00 (at the time of install) towards their birth or postpartum services.
She believes in the human body and knows that giving birth is one of the biggest transformations a person can go through. Ali aims to support the emotional, spiritual, and physical processes of birth and parenthood through breathwork, bodywork, mindfulness, and body awareness. Empowering birthing people to make informed and conscious choices about their birth is extremely important to her and she advocates for her clients to make sure these wishes are known by the entire birthing team. Included in Ali's package is access to M(o)therboard Birth- a platform to create a birth "plan", learn about your options, and invite your providers so that they know your preferences. Ali is a nurturer at heart and loves holding space for the eb and flow that happens in the birthing room. As a doula, Ali  is continuously inspired and empowered by the strength, love, and resilience she sees from her clients!
Ali supports home, hospital, and birth center births & offers a sliding scale and believes everyone should have access to Doula care!
When you choose Ali as your Birth Doula, you will have access to the Sweet Embrace Village Facebook Group, M(o)therboard Birth App, Sweetly Embracing Childbirth Education Course, Reiki and Reflexology, and a postpartum gift bag.
Check out her website: www.sweetembrace.info
To contact Ali, click here