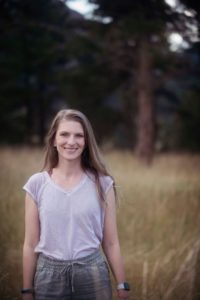 Hey, y'all! I'm Brittany LaBauve, your Certified Prenatal Massage Therapist, Doula, Energy Worker, and Birth Mentor. 
I've had the immense pleasure to specialize in this work for over 10 years and train with industry leaders guiding me to land here! In 2020, the pandemic sent major messages that I needed to make a drastic change. I took a huge leap of faith, from a lifetime spent in Southwest Louisiana, and moved with my family to Colorado. While I miss my community deeply (I like to say that I became 300% more Cajun the moment I arrived at these majestic mountains), it's truly a dream to serve you in this beautiful land we call Boulder County. This leap has served me well and I couldn't be more grateful for the warm embrace I've received.
I've been developing my skills over the last 20 years beginning with informal learning and progressing to studying with a variety of modality leaders:
Trained and certified as a licensed massage therapist by author, Susan Salvo, B. Ed, LMT, N.T.S., C.I. in 2011

Trained and certified as a prenatal massage therapist by author and industry leader, Carole Osborne, BA, CMT in 2012

Trained in Spinning Babies techniques by International Birth Worker, Tammy Ryan, AdvCD/BDT (DONA), SpBT in 2018

Trained in Birthing From Within Doula and Mentoring by Nikki Shaheed, and Carrie Kenner in 2020
Our bodies hold incredible knowledge. So much information is alive in your body: emotions, memories, traumas, spiritual resonances; all these and more can affect the way you experience your daily life, the way you give birth, and how you integrate a new life. When you feel physical pain or your body seems to have difficulty moving through life, there exists a great opportunity. You have the choice to greet this part of your being with acceptance, curiosity, and a desire to deepen healing. Or you have the choice to ignore the messages from the compass of your body. Regardless of your choice, I'm here with you, for you.
So, you're probably wondering what it is that I do. Let me tell you, it's not just a massage during pregnancy – which, by the way, is great all by itself. When you work with me, you're seen as a whole human being. I receive your goals and desires and note the landscape of your current environment. In this way, I'm able to approach you with highly specialized practices. I've worked with clients from all walks of life, and the journey you're traveling is uniquely yours. I'm right here with you as an ally, guide, and supporter. Here's the catch; I'm not here to heal or rescue you. I'm here to hold space and encourage awareness as YOU claim or reclaim your sacred relationship to your body, mind, and spirit. 
With Movement, Massage, and Mindfulness, you can invite immense healing into your mind, body, and spirit.
To schedule a session or learn more, please visit www.ImbuedBirth.com or call/text (720) 773-0147.
I wish you much joy and resilience as you welcome this new life!