Let's play a game: I'll describe a once-in-a-lifetime event, and you guess what event I mean. You'll know this event is coming for months in advance. It will involve you, your family, and a very special someone who you will love, unconditionally, for the rest of your life. This event is sacred and intimate, celebrated and joyous. You can plan for this event but you can't control everything that happens. When it's over, you will be part of a special bond unlike anything else in this life. Did you guess "a wedding?" WRONG! (But ok, I did try to make you guess wedding.) I'm talking about BIRTH.
As a birth doula, I often find myself feeling sorry that people don't put as much planning and care into the birth of a baby as they do into throwing a wedding. As I illustrated, the two events actually have a lot in common, but I would argue that birth is even MORE profound, humbling, and transformational than getting married. Birth renders us vulnerable, binds us closer to the ones who support us in it, and ushers forth a new chapter in our lives. So why don't more people give it the kind of planning, intention, and (yes, even) money that they're willing to put into a wedding?
Take, for example, the wedding venue. If you were planning to get married this year, would you choose whatever venue was closest to you, sight unseen, regardless of how it was equipped to handle your plans? Would you stick with that location even if it didn't support your spiritual beliefs, even if it didn't allow you to wear the clothing of your choice, eat the food you wanted to eat, or invite the guests you wanted to be with you? Would you assume that your actual wedding would go better than your appointments to make reservations and talk with the staff? Would you hope you'd be treated as the precious individual that you are, on your wedding day, even if you weren't treated that way when you booked the venue? Of course not! Those things sound ridiculous in the context of "wedding." But very often, expecting parents put up with these same warning signs in a birth facility.
Next, think about a wedding coordinator. Someone who knows all the best resources, is committed to supporting the couple, and understands how to communicate with clients and vendors alike. Someone who lives and breathes weddings, sees problems on the horizon before they arise, and protects the couple from common pitfalls. Above all, the coordinator wants to see the couple achieve the wedding of their dreams and cherish those memories forever. While it's common for engaged couples to hire wedding coordinators, it's still far from normal for expecting parents to do themselves the similar favor of hiring a doula.

Let's look at one more example: the wedding officiant. Would you willingly choose to have your wedding conducted by a virtual stranger? Possibly one of several people, who won't be specified until the moment you walk down the aisle? Someone you've spent less than a few hours talking to, who may or may not understand your hopes and concerns for the day? Someone who will be doing several weddings that day, dozens that month? Someone who hasn't met your family and only knows your history as a list of bullet points? Or would you prefer someone who really gets to know you, who wants to understand your vision for the ceremony, and who will spend the time to listen to your questions and reassure you about your concerns? Once again, in the context of weddings, having a stranger-officiant sounds odd. But for births, we readily allow for the possibility of an unfamiliar doctor.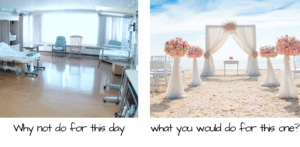 Why do we do this to ourselves, as expecting parents? I think it's in part out of fear; we live in a culture that pathologizes birth and makes us think that preparing for the rarest of scary complications outranks preparing for the universal needs of birth givers. And I think it's partly a lack of education; many of us don't understand that we HAVE choices about birth and we CAN plan for the experience we want in a safe, responsible way. Finally, I think it's because until you live through it, it's hard to understand that birth actually IS what we imagine weddings to be: a profoundly special day, the beginning of a lifelong loving commitment, and a life-changing experience that can't be fully described by mere words.
So here's what I want you to take from this: the "would I do it for my wedding" test. When you hear an option for birth that sounds like a luxury, ask yourself "would I do it for my wedding?" if you would, then why not do it for your birth? And really consider ALL of your options! You may have some of these filed under "luxuries that I do not need," but in the context of supporting a wonderful experience on this most special of days, you DESERVE every option that you want! Prenatal massage? Absolutely. Chiropractic care? You bet. Acupuncture? Sure thing. Doula care? 100%. Midwifery care? YES. Home birth, water birth, unmedicated birth, hypnotherapy, aromatherapy, massage therapy? YES. Childbirth education, breastfeeding education, postpartum preparation? YES. Perinatal counseling and support groups? YES. Feeling seen, feeling heard, feeling valued? Can I get an AMEN?
If you are located in Northern Colorado, please reach out to Sage so we can help connect you with the resources you deserve. We can put you in touch with top-notch providers for all types of prenatal, birth, and postpartum care in Boulder, Longmont, Loveland, Ft. Collins, and surrounding areas. You deserve a birth you will cherish forever. We can help make it happen.