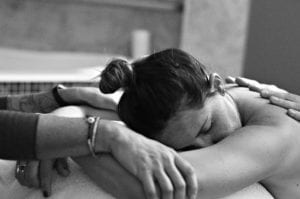 The Doula Interview
Thinking of hiring a doula for your birth?  You will not regret this decision!  Hiring a doula will provide you with another birth team member that is exclusively there for you and your partner.  Doulas help with emotional and physical support during labor, assist with techniques that can make labor shorter and more comfortable, help your partner master their role as primary birth partner, act as an advocate for you with any hospital staff or OB/GYN, and reduce the need for the cascade of interventions (including substantially reducing the c-section rate!)
Here are a list of questions to ask your doula on your interview: (You can ask these questions on the phone, but our recommendation is to meet her prior to hiring to make sure you and your partner feel compatible!)
The first question (and most important) is whether she's available around your due date. If that answer is yes, these are some other key questions to ask:
What is your training?
Are you certified? If so, by what organization?
What was required in order to receive this certification?
How many births have you attended? (remember, some of the best doulas have just a few births under their belts)
Are you familiar with my doctor/midwife/hospital/birth center?
Do you get along well with my caregiver?
When would you join me during labor, and where?
Which labor-coping techniques do you think are the most helpful? (eg counter pressure, hip squeezes, rebozo, miles circuit, spinning babies, tub, etc)
How would you work with and involve my partner?  This is my personal favorite.  In my experience, my most memorable births have been with couples who wished their partners to be the primary support person during birth. My role was to support them both through prenatal education, suggestions during labor, as a back up for physical support, and as a facilitator vs. being in the 'drivers seat' in the birthing room.
How do you feel about the use of pain medication during labor?
Why did you become a doula?
Tell us about some of your birthing experiences.
What's your fee? (In our area, doulas' fees range from $900-$1500)
What does your fee cover? How many visits or hours?
What's your refund policy?
Do you have anyone else due near the time I'm due? (Most doulas limit the number of clients they accept to two to four per month.)
Do you have a backup arrangement with another doula or group of doulas in case you're not free when I go into labor? Can I meet them?
Can I talk to a few of your recent clients?
If she is not available, you can ask her for other doula recommendations. At Sage Birth & Wellness Collective, there are 6 birth doulas, each with a common birth philosophy as well as a multitude of very different skills, styles of support, and fee structures.
After your interview, envision the doula at your birth.  Do you feel good about it?
Ask yourselves: Do I/we feel comfortable around this person?
Is she warm, enthusiastic, and knowledgeable?
Does she communicate and listen well?
Will she support my/our choices or does she have her own agenda?
It's a great idea to check a few references. You can ask what was the best part of hiring this doula, and whether there's anything they wished she had done differently.
When you meet the doula that is meant to work with you, you will usually know immediately!  Trust your instinct and hire.  You will love your decision!