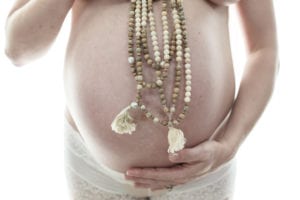 A Mother Blessing Ceremony
By Amy Meilen, PT, CD(DONA)
You, like most of us, have probably gone to or been the guest of honor at a traditional baby shower.  They range in style and meaning for everyone, from the giving and receiving of baby-necessities, gag gifts, cake, baby-centered games (often eye-rolling), and the occasional opportunity to share with other moms. While baby showers have served their purpose-"showering" mamas with gifts for the baby, something is missing.  Our society, as a whole, has glossed over the beauty and power of this rite of passage – maidenhood-to-motherhood – one that is unique to each new mother, and can be a powerful means of support, honoring, and blessing to HER.
A blessingway is a traditional Navajo ceremony, which celebrates this rite of passage. Out of respect to the Navajo tradition, in our culture we call it a Mother Blessing Ceremony. A Mother Blessing is about nurturing the mother, providing her with all that she needs through support, love and the handmade gifts of her women-folk which instill her with confidence as she awaits the transition to motherhood through the birth of her baby. The best way to get the love hormone (oxytocin) flowing, is through the gift of a women's circle of love!  A Mother Blessing is a beautiful and unique way to honor a new mama, spending time with her, sharing stories, discussing and distilling fears and instilling confidence and strength.
What Happens at a Mother Blessing?
A Mother Blessing involves a gathering of the new mama's most trusted friends and family, who sit and share in circle with and amongst one another. Traditionally it is a woman-only gathering and may include her mother, sisters, aunts, daughters, best of friends, mentors — anyone she respects, looks up to or values.  The circle of women—in all ages and stages of their women's journey—will bring offerings, recite poetry and readings, light ceremonial candles, and celebrate the transition from maiden to mother through ritual, pampering the mama-to-be,  and ending with a feast!
A Mother Blessing helps the woman to prepare herself for the birth, emotionally, spiritually and mentally, for the all-important role of new motherhood. She feels physically and emotionally held and supported by those she loves and respects.  This is a beautiful way to help release any fears or misgiving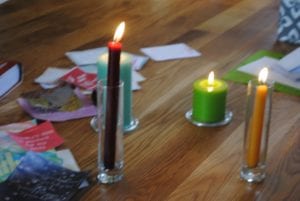 s she may be feeling and allows her to fully embrace what lies ahead.
Anytime women do circle work, powerful things happen.  To hear the birth stories, blessings, poetry and good wishes of other women is music to the ears of an expectant mama.  Mother blessings are affirmative, empowering and uplifting to ALL women in the circle.  Whatever the belief system of the mama, the Mother Blessing honors, calls and inspires these beliefs and wraps the soon to be mama in a tradition which is a standard rite of passage in so many cultures across the globe.
What is it Like to Have a Mother Blessing?
"It was one of the best parts of my pregnancy.  I'll never forget that day, the sharing and the pampering.  I felt supported and held by my best friends.  I can't imagine a more beautiful way to celebrate the transition to motherhood". Jenn's Mother Blessing included traditional Navajo prayers, calling of the spirits of the North, South, East and West to preside with her on her journey, remembering ancestors, reciting poetry, creating a 'mother's alter' with mementos from each guest, reminding them of their mothers and children.  There was a guided meditation with imagery around easy, comfortable birthing, and each guest read a blessing or a reading of their choice.  Jenn was pampered with henna, foot bathing, hand and foot massage, and guests took turns brushing and styling her hair.  All of these pampering rituals were meant to honor and bless the parts of her that would be used to care for and nurture her new baby.  At the end, each guest made an affirmation for her labor and birth, and a beautiful, colorful and original "affirmations hanging" was created to bring with her on her birthing day.
At Ashley's Mother Blessing, all of her friends brought a bead and blessed it, and made a necklace for her upcoming labor.  Birth stories were shared and everyone worked on a square of a quilt for her new son.  Having a quilt for him sewn by all of her best friends and family was amazing.
Mother Blessings will vary in proceedings and rituals, there is no set order or agenda, so each one is as unique as the women involved– mama can choose elements of the ceremony that resonate with her.
Some Ideas for Planning a Mother Blessing
Activities at Mother Blessings may include any of the following
Bead Ceremony
This is a nice way to get everyone — not just those who can actually make it to the event — involved in supporting the mother-to-be. These beads can then be made into a necklace for the mother-to-be to wear during labor.
Cord Ceremony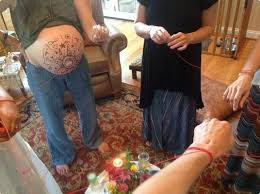 Binding everyone's wrists with a single cord of red wool or some other yarn. Everyone then keeps the string around their wrists until they hear that birth is underway " then they all cut the cord as a symbol of unity. Additionally, the cord is a nice way to remind others to be thinking of the prospective mother.
Flowers and/or Henna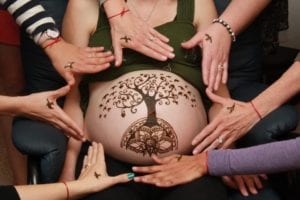 A crown of flowers made for the mother always makes her feel special, and henna [body art, typically on the belly and/or hands] (if you can get someone who does it) is always good fun for the mother and other guests. There are loads of traditions associated with "mother" henna
Massage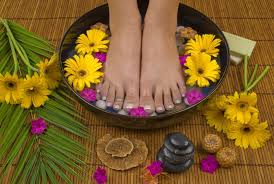 Always bliss for a pregnant mama. Head, shoulder, hand and foot massage (maybe not hand if she's getting henna done!) needs no explanation. All these things are done to make the mother feel nurtured, protected, surrounded by love, and supported.
FEAST! Each guest brings something homemade and delicious to share. Ideally, the guests also includes the recipe to help attendees with ingredients, or to copy for future use. Many postpartum doulas know recipes to share that are both delicious and excellent choices for late pregnancy!
More Mother Blessing Ideas (the sky is the limit!)
Candles are passed out and an agreement is made to light each candle when news of the new mother's labor has started.  The candle, and the energy of holding this space, gives the laboring woman the sense that she is surrounded by her wise friends.  She is not laboring alone.
A blessing is done in the form of a prayer or poem. Guests bring a poem or prayer they have found or personally written, to share with the soon to be mama. Someone could be in charge of collecting the blessings and collating them in a book/journal/scrapbook or other special place.
A plaster belly cast is a fun idea for a Mother Blessing which is also a great keepsake. It can be messy, but guests and the mother-to-be will probably enjoy it even more!
To Plan a Mother Blessing with Amy at Sage Birth & Wellness, please reach out via phone or email.
720-323-3609 amy@sagebirthandwellness.com
A Mother Blessing can be a completely healing and loving time for a mother-to-be, at a time when we need to nurture our mothers more than ever. Enjoy and spread the word!