Hi Mama! Have you been associated with a "high risk pregnancy?" Working with a doula prenatally is an excellent way to educate yourself on what predisposes you to this label.
Do you have questions about your 'high risk' label? Has your doctor or midwife explained the factors leading to this label, and if so, do you fully understand them? Many doulas have a network of care providers including local OB's or midwives that manage risk without losing your ideals surrounding pregnancy, labor and birth.
Would you like help negotiating through a high risk pregnancy? As a doula, I have firsthand experience and knowledge about 'high risk' labels, managing risk, and navigating high risk pregnancy with mamas, partners and their health care team.
Several things make a pregnancy "High Risk":
A mama's pre-existing health conditions
Hypertension-uncontrolled high blood pressure can lead to damage to the mother's kidneys and increases the risk for low birth weight or preeclampsia.
PCOS (Polycystic Ovary Syndrome)– a disorder that can interfere with a woman's ability to get and stay pregnant and can result in higher rates of miscarriage (the spontaneous loss of the fetus before 20 weeks of pregnancy), gestational diabetes, preeclampsia, and premature delivery.
Diabetes-managing blood sugar levels prior to conception is key. It is during the first few weeks of pregnancy that babies are at risk of birth defects caused by high sugar levels. Your OB or midwife may recommend daily vitamins and folic acid to help minimize this risk.
Kidney Disease-mamas pre diagnosed with kidney disease often have difficulty with conception. Once pregnant, they are at higher risk for miscarriage. These mamas will require additional treatments, changes in diet and medication, and frequent visits to their health care provider to maintain a healthy pregnancy.
Autoimmune disease—including conditions such as lupus and MS. Some autoimmune diseases can increase a women's risk for problems during pregnancy. (Lupus can increase risk for preterm birth and stillbirth). Some mamas report their symptoms improve during pregnancy, while others experience more challenging symptoms. Some medications used for treating autoimmune diseases may be harmful to the baby when taken during pregnancy.
Thyroid Disease—If uncontrolled, hypo or hyper thyroids (small gland in the neck that makes hormones that regulate the heart rate and blood pressure) may cause problems for the baby including heart failure, difficulty with weight gain and birth defects.
Uterine Shape—Bicornuate (split) uteruses can pose a threat to many pregnancies. The space allotted in 'half' of the typical uterine space can cause miscarriage or pre-term labor. Many women with this condition have surgery to remove the septum or inner wall. With or without surgery, this can still cause complicated pregnancies.
Infertility—Studies have shown that women who take drugs that increase the chances of pregnancy are more likely to have pregnancy complications than unassisted pregnancies. These complications often involve the placenta (the organ linking the baby and the mama) and vaginal bleeding.
Mama's Weight—Obesity can make a pregnancy more difficult, increasing mama's chance of developing diabetes during her pregnancy, which can contribute to more difficult births. Underweight mamas also have challenges, if they weight too little for their own health and the health of their baby.
A mama's age can often determine risk
Pregnant teens are more likely to experience hypertension or anemia. They are at higher risk of pre-term labor. The may be exposed to STD's or infections affecting pregnancy. Teenagers are often less likely to seek out good prenatal care or follow up with appointments meant to ensure a healthy pregnancy.
AMA (advanced maternal age). Mamas above the age of 35 are considered 'high risk' due to increased chances of delivery complications, prolonged labor, failure to progress during labor, or pre diagnosed genetic disorders, such as Trisomy 21 (Down Syndrome)
A mama's lifestyle
Cigarette, alcohol or drug use can put a baby at risk for health problems, low birth weight, hyperactivity disorder, cognitive disabilities, or vision/hearing problems.
Pregnancy conditions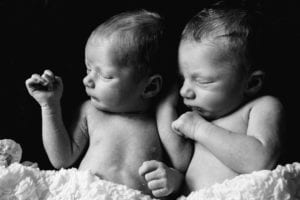 Multiples! Have you been blessed with twins, triplets or more? Studies have shown a significant increase in twins and multiples, particularly for women over 35, due in part to the increased use of ART (fertility treatments). Multiples have increased risk of preterm labor and premature birth. Multiples also increases the chance of delivery by cesarean section. Twins and multiples may have lower birth weights, or are born prematurely—necessitating stays in the NICU and assistance with breathing.
Do you have gestational diabetes? (Diabetes which starts in pregnancy). This can be managed with diet and frequent visits to your care provider. Uncontrolled, GDM (gestational diabetes mellitus) can lead to preterm labor, preeclampsia, and hypertension.
Preeclampsia and eclampsia—these syndromes are marked by sudden blood pressure increase in mama after the 20 weeks gestation. There is also evidence of proteins in the urine and can be diagnosed through testing a urine sample. This is a serious condition and can cause damage to mama's kidneys, liver and brain. If untreated, this can be fatal to mom and baby. Eclampsia is the advanced form of this syndrome and is marked by seizures and coma in the mama.
Placenta Previa is a condition where the placenta lies low in the uterus and partially or completely covers the cervix. The placenta may separate from the uterine wall as the cervix begins to dilate (open) during labor. Often, this is diagnosed earlier in pregnancy, and with the growth of the baby and the position of the uterus, it can often resolve. If unresolved, signs and symptoms of placenta previa vary, but the most common symptom is painless bleeding during the third trimester.
Other reasons to suspect placenta previa would be preterm contractions, breech or transverse positions, or baby is measuring larger than it should according to gestational age. Depending on the severity, mamas may be prescribed bedrest. If preterm labor continues, steroids can be given to baby to promote lung development. Placenta prevue often results in the necessity of a c-section.
While positive strep B or Low Platelets aren't considered symptoms of a "high risk" pregnancy, they will often eliminate a woman's chance of birthing at a birth center or experiencing home birth. These conditions usually are managed during labor and birth and follow up with NICU is part of newborn care.
---
How is high risk pregnancy diagnosed?
Good prenatal care helps identify mamas who have a potential "high risk pregnancy". Many OBs and Midwives will manage risks within their continuum of care. Some will refer the mama to a specialist who will help determine the best ways to manage keeping a mama (and her baby) healthy throughout pregnancy and birth.
Mamas labeled "high risk" will likely receive a level of care that is more conservative in order to ensure a healthy, full term pregnancy, and a beautiful outcome.
Many mamas who've been labeled "high risk" might ask if there is anything they can do to manage risk.
The best way to lower risk is to pick a care provider that has a proven track record in managing risk. Often, little more is required than frequent observation during a pregnancy. If more care is required, it is good to pick a provider whose philosophy of healthy pregnancy and birth matches yours, as well as their knowledge and skill levels being congruent to your diagnosis.
If you've been labeled 'high risk" and this brings up a level of doubt or discomfort, there is no harm in seeking out other opinions. Often a more conservative practitioner will perceive risk in pregnancy that a midwife or less conservative OB would manage without perceived risk.
Staying healthy is one of the best ways to lower the risk of having a difficult pregnancy. This starts with good health prior to conception! Begin to think about your health, nutrition and vitamin supplementation prior to pregnancy. OB's and midwives recommend taking at least 400 micrograms of folic acid (a type of vitamin B) every day before and during pregnancy. Avoid smoking or use of controlled substances. Begin to see your preferred provider early and visit regularly.
If you're still uncomfortable with the label of "high risk", talk to someone. There are pregnancy support groups for mamas struggling with high risk pregnancies. Talking with others in the same category can help reassure mamas and their partners that they are doing everything they can for their health and the health of their babies.
Amy Meilen's high risk doula experience:
As a doula with personal experience being labeled "high risk", I can help you navigate these circumstances and come up with a prenatal and birthing plan that is just right for you.
The truth is, with clients in high risk pregnancy, a doula's role isn't that different.
Prenatally, your doula would still help you gather information about what options are available in your situation, and help you to determine your birth plan or preferences. With these goals identified, your doula, together with you and your partner would discuss how you could work together as a team to meet the physical and emotional needs of the birthing parent during labor and/or birth. During the labor and birth (be it surgical or vaginal), the doula provides emotional and physical support, facilitates cooperation and communication with care providers, and keeps the client's goals or birth plan in mind.
Doulas are not just for people who desire an unmedicated birth. (In fact, some doulas specialize in high risk birth or even specialize in working with clients planning cesarean births.)
More and more often, there are families that desire and are scheduling family-centered or gentle cesareans.  Having a doula help navigate this birth plan and be available to the birthing woman before, during and after her birth to support her physically and emotionally and ensure she is not left alone at the end of surgery while her partner is working with the baby.
Have a high risk pregnancy issue, or thinking of working with Amy Meilen as your doula? Give us a call at (720) 204-8489.
Preparing for your birth may seem overwhelming — we're here to help! Headquartered in Longmont, our team of doulas is spread out across the front range, and we are regularly meet with clients in Boulder, Broomfield, Lafayette, Louisville, Erie, and Denver.
Contact us today to see how we can help. We'll can meet for coffee or tea for our complimentary birth planning meeting to learn more about how we can support you in your vision of your birth.
Call (720) 204-8489, click here to fill out the contact form, or email info@sagebirthandwellness.com. We look forward to talking with you soon!
Read my full story here: