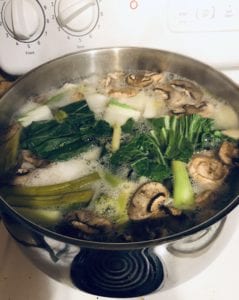 I've recently been doing a lot of postpartum doula work.  Both a confirmation and a reassurance in the work we're doing prenatally—Informing and instructing our clients in the importance of resting for the first 40 days.  Teaching that this is not only a good thing, but fundamentally the right thing and what our bodies intuitively tell us that we need. And the 40 days of rest starts in the first 24 hours after your baby arrives. 
I recently supported a mama who was still in hospital after a c-section.  Her baby was born at 36 weeks and she'd been on Magnesium sulfate for her blood pressure due to preeclampsia.  Baby was in the NICU and mama was in her room—on different floors of the hospital.  Both were coping, but not flourishing or thriving.  I'd been her birth doula and had helped her to understand that she could ask for and expect to receive evidenced based information on anything pertaining to her birth and her body.  We hadn't prepped for an extended separation from her baby.  I went to work explaining that she should ask for—and expect—more contact with her sweet babe immediately after her recovery and then whenever she felt it was important and helpful.  I explained that breastfeeding would go better with skin-to-skin contact and that she would feel better despite the side-effects of her meds.  I explained that babies often recovered more rapidly with their mamas at their bedsides or involved in their NICU care. 
For 24 hours after her birth, she was only to eat/drink clear liquids.  This meant after her birth, she was given ice chips (cold), a popsicle (cold) and jello (cold).  After I left her that night, I stopped by the market and bought fresh bones, vegetables and spices and by midnight, I'd made her a bone broth.  I knew her body needed all that the broth could offer. 
How does bone broth help mamas in postpartum recovery?
The broth is warm in temperature and warm in nature.

 

The warmth and spices aid digestion and milk production.
The broth is collagen-rich and aids in connective tissue health.

 

Our ligaments, bones and tissue crave this for return to healthy function.
Bone broth contains the amino acid glycine which helps us absorb protein.

 

It also protects us from stress and clears toxins in our body.

 

Glycine and proline are also needed to aid in soft tissue and wound healing, speeding up post-surgical recovery.

The Calcium, magnesium and phosphorus —all minerals in the broth—are needed to keep our bones healthy.

It maximally supports the immune system by strengthening the gut lining which is where the majority of our immunity lives.

The broth can decrease the overall feelings of fatigue and weakness reported in the days and weeks post delivery, regardless of the type of birth and can also miraculously aid in reducing and fighting infections.

 

It also calms the stomach and assists with any birth-related nausea.     
The morning after my client's birth, I seasoned the bone broth with salt and pepper, popped it into quart size jars, and went to my car to deliver it to the hospital, but was surprised to find no cars in the garage. Teens had gone to work in different directions and I'd been left without a car. Instead of waiting, I put the broth in a saddle bag and jumped on my motorcycle to deliver it promptly. Not only did my sweet client get what her body needed, I had another chance to bring up self-advocacy and helped her get to the NICU to bond some more with her baby.   Plus the added benefit of a morning motorcycle ride.  Crazy doula life.
Sage Birth & Wellness Collective Bone Broth Recipe (a modification from Heng Ou's First 40 Days):
2 pounds of bones—I use a blend of beef and pork
3 Liters of water
2 inches of unpeeled ginger
1/2 tsp star anise (ungrated)
1/2 tsp whole cloves
1 T apple cider vinegar
1 bunch of cut up bok choy
2 Cups mushrooms
2 Quartered white onions
2 bunches of scallions whites and greens chopped
6 carrots coarsely chopped
3 celery stalks with greens coarsely chopped
Salt and pepper to taste
Preheat oven to 350 and roast bones, ginger and onions until marrow sizzling—about 40 mins. Remove from oven and transfer to stock pot. Add water, vinegar, vegetables and spices and bring to a boil over high heat.  If foam surfaces, skim it off then reduce to a simmer for 4-6 hours on low. Strain vegetables and discard.  Season broth to taste with Salt and Pepper. Store leftovers in freezer to use as a stock or soup base. I usually ladle the broth into a bowl of savory congee and right into a new mamas belly.
If you're looking for a Boulder Postpartum Doula or Longmont Postpartum Doula, feel free to reach out to Sage Birth & Wellness Collective www.sagebirthandwellness.com 
Here's to good postpartum care.  May you be well and thrive in motherhood.