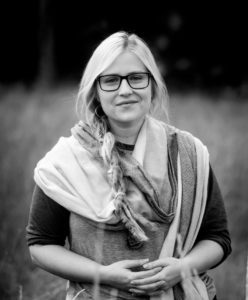 Mara Holloway (she/her/hers) is a certified Ayurvedic postpartum doula, maternal mental health counselor, and ceremonialist based in Northern Colorado. 
She believes that motherhood is a rite of passage – a sacred initiation deserving of honor, devotion, allowing, and tender care. 
Mara entered into sacred mother care after giving birth to her son; witnessing first-hand the vital role postpartum care plays in overall health and wellbeing. While her birth was beautiful, the days that followed were far from empowering. She struggled unnecessarily and vowed to walk alongside newborn mothers as they navigate the uncharted territories of parenthood.
Ayurveda teaches us that a newborn mother is just as delicate and vulnerable as her newborn child. She is open, expansive, and tender. And she is deserving of the same loving care her baby receives. Mara believes in the power of "mothering the mother" and the beauty that stems from having their experience honored and their needs lovingly attended to. 
In the days following your birth, it is Mara's primary intention that you are seen, loved, validated, appreciated, deeply nurtured, and fully supported on your journey into motherhood and beyond.
She offers prenatal postpartum preparation consultations for expectant families and full Ayurvedic postpartum care (nourishing meals, herbal preparations, Abyanga for mother and baby, healing herbal baths, traditional belly wrapping, and more). 
Mara also provides maternal mental health services and ceremonial offerings for mothers in all phases of their journey. She holds a particular passion for supporting survivors of sexual abuse and birth trauma, as well as those who are cycle breakers within their family of origin – healing generational wounds so the pains mother experienced are not passed down to future generations.
To learn more about Mara and the support she provides new and growing families, visit her website or reach out to schedule a free consultation.