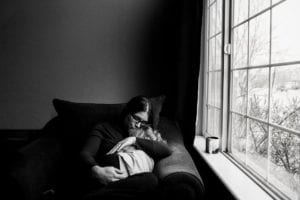 Hi, I'm Laura. I am a wife, the mother to 3 little girls, and a lover of photography. I discovered photography a bit by accident not long ago, and I've been hooked since. My girls are 2, 5, and 7. I can't keep up with them or their milestones. This is a huge part of why photography appeals to me. If only for a second, I can freeze time and keep that memory forever.
My favorite moments to photograph are the unposed and unplanned ones. The ones where my loved ones are being true to who they are. Sometimes that means snuggles, sometimes laughs, sometimes play, and a lot of times for my little girls it means jumping on the bed.
What does this mean for you? I would love to photograph the moments in your life, whether they are huge moments like welcoming a new baby or moments as simple as game night. I will show up in comfy clothes expecting to interact and play with your family. My goal is always to keep our time together fun and capture images that reflect who you and your loved ones are.
My business name is Red Mountain Studio. I have been photographing families for over 6 years. I specialize in sessions that welcome new babies including: maternity sessions, fresh 48 sessions, and newborn sessions.
If you are interested in finding out more, please visit https://www.redmtnstudio.com.