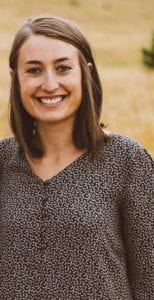 Katie Braswell, a born and raised Southerner from Atlanta, Georgia, found herself spending most of her summers adventuring through the Rocky Mountains and falling in love with the great outdoors.
Her love affair with the West eventually led her and her husband to Boulder, Colorado, where she currently resides as a Registered Yoga Teacher and Holistic Nutrition / Functional Medicine Consultant. She completed her Masters program in Holistic Nutrition from Hawthorn University in 2020 and has worked in the Natural Food Industry as a sales rep for over 8 years. 
Growing up with a health-conscious family, her passion for real food and wellness started at an early age. Her mom was always a true advocate for Katie's own health and wellness. Now, it is her turn to be an advocate for others through real food, intentional living, wellness, and community.
She has become passionate about working alongside women in their journey through childbirth, after experiencing the birth of her son. Katie's specific areas of interest are preconception health, fertility, prenatal nutrition and supplementation, gestational diabetes, breastfeeding and postpartum care (focusing on nurturing mama and baby). 
She specializes in functional nutrition for families – especially the mama or mama to be who is looking to maximize their time adventuring with their little ones! Katie believes in meeting her clients where they are in their health journey to regain balance and vibrant health.
Katie offers one-on-one nutritional and supplementation consultation packages, custom meal plan and prep consults, as well as, private and group yoga classes. Book your free 20-minute call at www.livewildbewell.com or email Katie at Katie@livewildbewell.com